Vaidhya Sonal Ayurveda Physician & Panchkarma Specialist
VAIDHYA SONAL,  M.D. (Ayurveda)
Ayurvedic Physician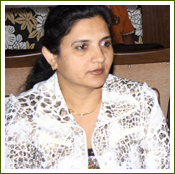 Vaidhya Sonal (Ayurvedic Physician) is a master of doctor in Ayurveda from the world famous university of Ayurveda, Jamnagar Ayurvedic University, India. Ayurvedic Doctor Sonal is also Registered Nutritional Consultant from CSNN Toronto. Sonal has been practicing as an Ayurvedic consultant, Panchkarma specialist, teacher and researcher in India and Canada for over 20 years. Sonal has been invited to many famous institutions as an expert to express her knowledge on subjects like Ayurveda a complete science for human being, Yoga, Meditation, Panchkarma therapy, Diabetes, Stress management etc. Sonal is a life time member of all India Ayurvedic congress and Gujarat Ayurvedic congress India, regular invite as an Ayurvedic Doctor on all India radio and had her own Ayurvedic herbal pharmacy in India, which offered pure, and effective herbal remedies for various disorders.
Currently practicing and teaching in Ayurveda and offering following services in Toronto, Canada.
Ayurvedic health consultation for prevention and Doshic balance.
Ayurvedic panchkarma therapy for cleansing, detoxification and rejuvenation.
Ayurvedic health retreat.
Ayurvedic healing treatments for purifying and strengthening the body, mind and consciousness for good health.
Courses and workshops for Ayurveda and Ayurvedic cooking.
Address of Vaidhya Sonal's Ayurveda Panchkarma Centre: 483 Lawrence Ave W, North York, ON M5M 1C6, Canada. Official site of Vaidhya Sonal's Ayurveda Panchkarma Centre – Click to www.ayurvedicmedicalclinictoronto.com.
Contact the Center and Register Your Business Features will be added soon once we are ready with our database of complete Best Ayurveda Nature Health Cure Hospital, Yoga Therapy, Natural Spa and Resort, and Naturopathy Centres in Toronto, Canada.